Our favorites from Xerjoff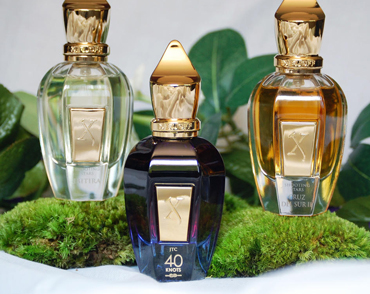 40 Knots is the Italian yacht Club you leave from, destination: the Mediterranean, for an incredible course that Xerjoff has studied, uniting the pleasure of navigation with the charm of slices of life suspended in time.

Notes: Vegetal greens, Marine, Salt, Menthol, Wood, Coffee, Cedar, Clove, Floral
XerJoff — Shooting Stars — Cruz del Sur II
The skin avidly soaks up the humours luxuriantly moistened by tiny streams following the winding trails of mango, pineapple, guava, and apple blossoms. Among millions of creatures, the most radiant is the one whose appearance is uncontaminated like a Yanomami tribe, its heart a bouquet of exotic flowers and is about to carry as a gift to the stone altar the scents of blackcurrant and green leaves, as far as they can go. The eager search of mankind for every kind of gold, whether yellow, white or black has not deprived this creature of its natural charm. The animal and vegetable worlds clash under the gracious auspices of the vetiver and the cedar, which responds to the milky notes like a distant drum. Screams bounce back from the tree trunks, accompanied by candied fruits and soft musk. The greatest green space on Earth deserves such inspiration. It is time to take flight, like a butterfly of a species not yet classified.
Notes: Mango, Pineapple, Apple, Guava, Exotic Flowers, Violet Leaves, Black Currant, Vetiver, Cedarwood, Dried Fruits, Musk, Milk
XerJoff — Shooting Stars — Ibitira
Ibitira speaks the language of flowers, a noble and rich combination of rare and seductive natural secret elements. Sweet and warm at first, Ibitira then opens its heart of pure Bulgarian Rose and Florentine Iris to deliver a profound passion and deep reminder of the true, aristocratic belle epoque. This harmonious composition lays upon a rich bed of cedar wood, vanilla bourbon and Haitian vetiver to seductively create a fragrance with a beautiful and long-lasting romantic embrace.
Notes: Lemon, Violet, Orange Blossom, Damask Rose, White Flowers, Iris, Nerole,
Cedarwood, Vetiver, Bourbon Vanilla, Musk
Which one would you prefer?