Envy hair care - conditioner & shampoo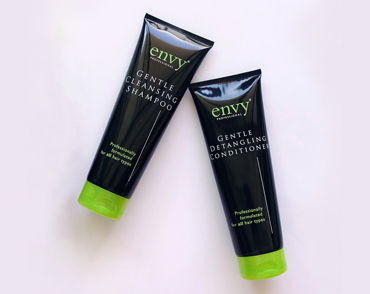 Professional Gentle Cleansing Shampoo from Envy is safe for human health.
The product gently cleanses the hair, leaves it light and fresh. The excellent combination of keratin and silk proteins gives the hair extra strength.
How to use: Apply shampoo to damp hair. Massage it gently over your hair and scalp. Rinse off and repeat the procedure.
Gentle Detangling Conditioner from Envy makes hair care comfortable and easy. Hair does not tangle and is optimally hydrated.
The conditioner gives an intense shine and a silky effect. Hair is saturated with life-giving power and is restored after thermal exposure.
How to use: Apply conditioner after shampooing, distribute over the entire length, starting at a distance of 5-7 cm from the roots. Let sit for up to 5 minutes and rinse hair thoroughly with warm water.