NEW! DECAS! 1861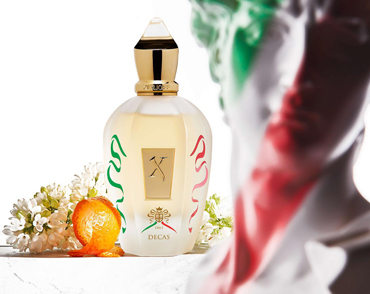 This composition from Xerjoff is a special offer, that was launched on the tenth anniversary of the Xerjoff 1861 collection.
The main inspiration and sublime mood for Decas were the spicy notes of Brazilian mandarin.
The top notes are presented with tuberose and tobacco which can awake the senses.
The heart reveals its mystery with the help of Italian iris and a rich ceremonial accent of benzoin, which recreate the majestic atmosphere of historic Italy.
Smoky, soft opoponax warms the heart of the fragrance, while notes of musk, resin and vanilla create a solid base of the perfume.
The spectacular oriental composition is presented in a bottle with a rounded shape, painted in warm, milky white shades and decorated with the colors of the national flag of Italy. The refreshing scent is perfect for the summer season.