The most memorable moments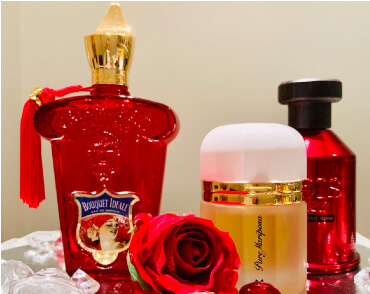 Bouquet Ideale, 100 ML

Warm and seductive, Bouquet I'deale is composed of a beautiful powdery Cashmere accord with mysterious touches of vanilla and papyrus. Heart notes of cinnamon and nutmeg lend a spicy heart while a sensual blend of tobacco flowers, labdanum absolute, vanilla, coumarin and musks make up the base of this intoxicating scent. This orchestra of notes embraces your soul and delivers it to a faraway Mediterranean island, where the winds from the south carry the scents of flowers and spices. Bouquet Ideale is an unforgettable dream on a romantic night.
The first sniff worms in sinuous & charming, bewitches the mind like an olfactive spell& the intriguing encounter between May Rose & Incense is literally magic, & a dusting of Sugar makes this elixir irresistible. The heart is enveloping, moreish & sensual, wafts of exotic Everlasting & Davana rise up warmed by smooth touches of Sandalwood. This philtre completes itself in the dry down, where vibrant woods, Vetiver & Patchouli, lose sweetly themselves into the voluptuous embrace of Vanilla & Black Amber
One of the most exciting moments in this new stage has been to discover a new source of inspiration in art.
The inspiration, grounded in the values of elegance and freedom to celebrate the exclusivity that only art allows.
Pure Mariposa from Ramon Monegal is Memorable, Feminine, Resplendent, Light and Persistent fragrance.