Xerjoff V. Amabile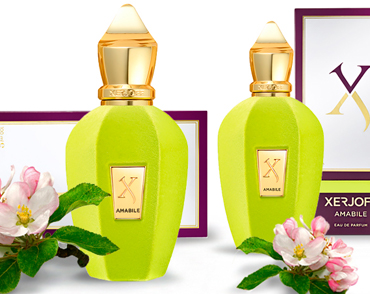 The luxury collection from the Italian brand XEJOFF is dedicated to velvet and includes beautiful fragrances which become known all over the world really fast.
The exquisite bottle of each edition is covered in velvet and colored in a specific color that emphasizes the beauty and individual style of each scent.
All XERJOFF V COLLECTION fragrances are available as 50 ml and 100 ml of Eau de Parfum.
In November 2020 Xerjoff presented a new fragrance - Amabile. Very intense, optimistic, exciting, and vibrant scent. Amabile, with its ingredients, perfectly matches the style of its two predecessors from the collection: ACCENTO and ERBA PURA.
The beginning is a real pleasure. You immediately get unexpected energy, released by notes of green apples and Mediterranean fruits, which soon turn into exotic notes of flowers and spices.
The base notes are presented in a classic style with notes of exotic wood, vanilla, and white musk.
The fragrance is presented in a velvety bottle with bright light green color, which perfectly matches the composition. Amabile was created as a fruity-spicy scent with a pleasant dose of sweetness that melts into woody and musky comfort.